Cloud migration is the process of moving an enterprise's digital data, services, critical infrastructure, software platforms, and applications to a cloud computing environment. These activities typically involve switching from one cloud environment to another or from on-premises data centers to the cloud.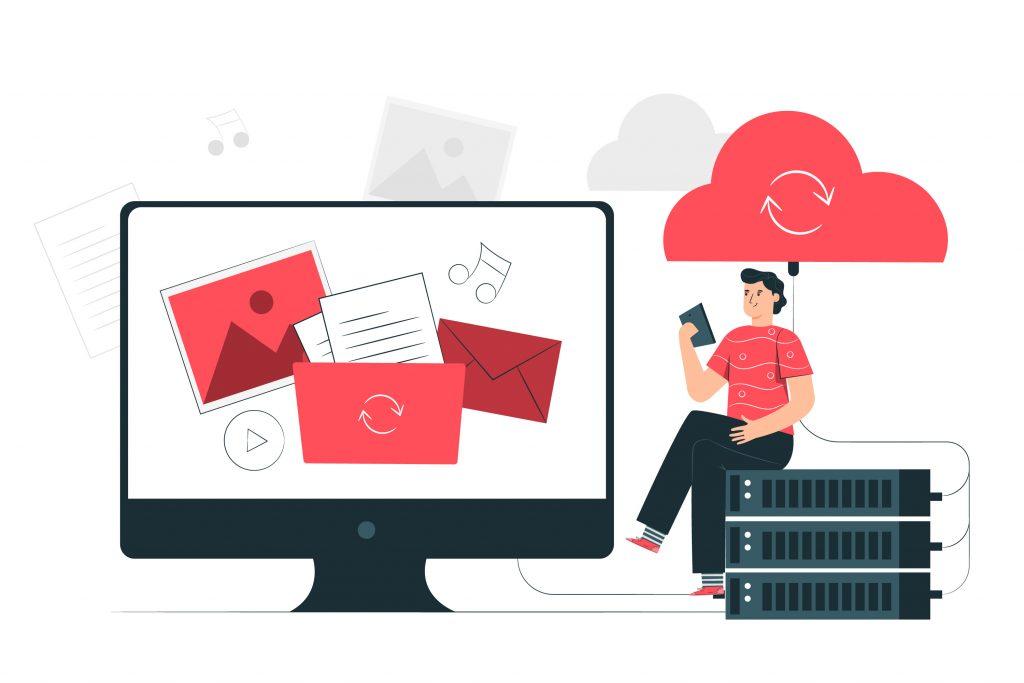 Cloud migration is nearly always regarded as necessary for any kind of digital transformation. Although cloud migration is not an easy process, companies choose to move to the cloud because potential advantages and cost savings can benefit businesses. However, a detailed cloud migration strategy is required to manage that challenging process effectively. The planning is critical both for companies moving their legacy systems to the cloud for the first time and for cloud users looking to optimize their existing systems.
Why is Cloud Migration Needed?
Companies who want to get rid of outdated and inefficient infrastructures, such as aging servers or potentially unreliable firewall devices, or forego hardware and software solutions that no longer operate at optimum capacity, are now turning to the cloud and reaping the benefits of cloud computing.
Here are the main benefits:
improve the end-user experience,
optimize costs,
become a more flexible and agile business
The cloud migration process may require refactoring your software to make it more suitable for the cloud, especially the deprecation of legacy applications and other performance-enhancing changes. As I said at the beginning of the article, cloud migration is not an easy process.
What are the 7 Rs of Cloud Migration?
We said that the first and most critical step in cloud migration is to follow an appropriate strategy and a well-architected plan. There are two famous models for cloud migration strategies. The first one is Gartner's 5-Rs, which describes all alternatives for moving to the cloud, and the second one is AWS's 7Rs model (when first released, it was 6Rs), which Gartner's model inspires. According to the AWS documentation 7-Rs model includes the strategies: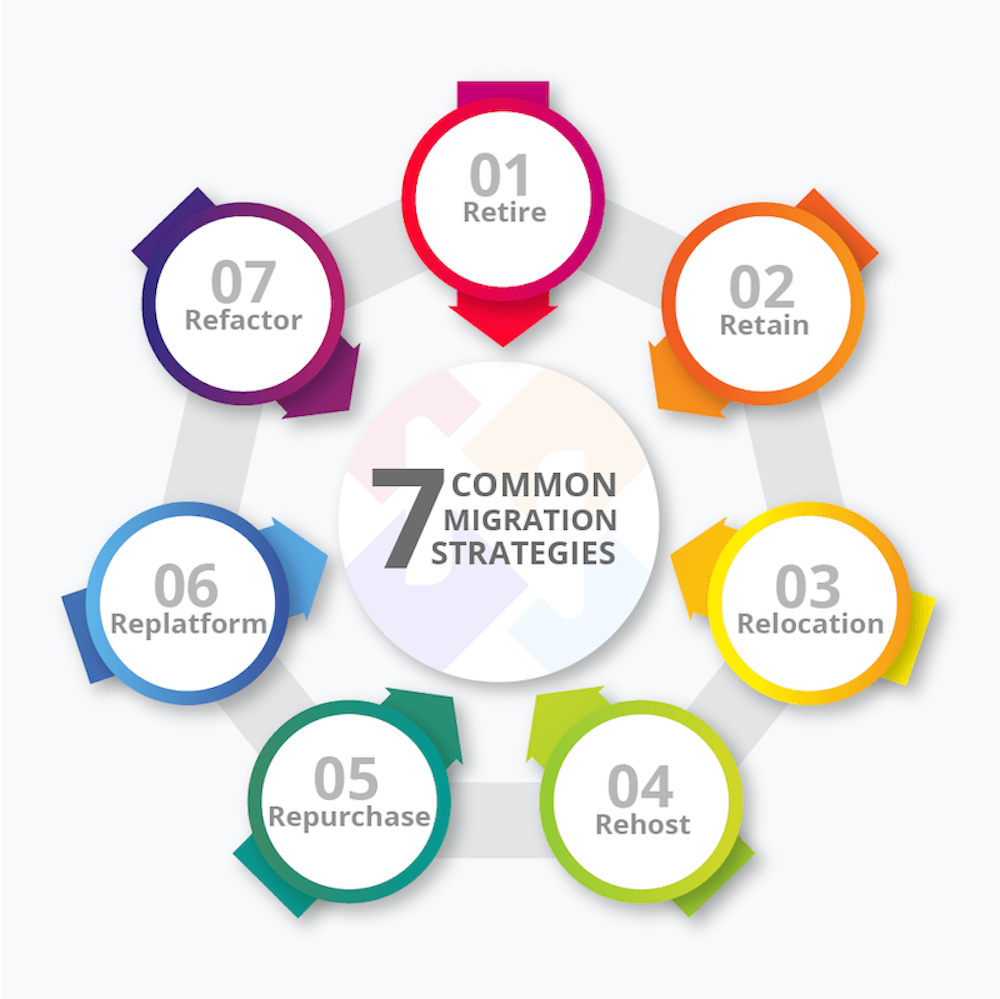 Refactor,
Replatform,
Repurchase,
Rehost,
Relocation,
Retain,
Retire.
Now let's check those strategies one by one.
Refactor
We can also call that strategy "re-architect". We can say the most pricey method of cloud migration is refactoring. The system is completely redesigned to make the transition to the cloud. When there is a critical business need for cloud-native functionalities, we can choose this approach. The application is typically divided into separate services and converted to a microservices architecture in the cloud.
Replatform
The other name is "lift" and "reshape". First, the services are moved to the cloud, and then some level of optimization is added to help the application run more effectively, cost less, or utilize cloud features. If platforming is the preferred approach, we should concentrate on apps that need the least amount of optimization.
Repurchase
"Drop" and "Shop", is an analogies used for repurchasing. This strategy entails changing your application with a new one. The software product should offer greater commercial value than the current one. "Drop", and "Shop" often lowers license, infrastructure, and maintenance costs.
Rehost
"Lift" and "shift" is the other name for rehosting. In rehosting strategy, your applications are transferred to the AWS Cloud as it is, and no modification is made. This is why it is called also called "lift and shift". Your application stack is simply migrated from your local server to the AWS Cloud.
Relocate
Transferring several servers at once from the on-premises platform to the cloud version of the platform. There is no need to develop new software or buy new hardware when using the relocation. Relocation has no detrimental effects on the overall design of your application, making it the quickest method for relocating and operating your workload in the cloud. Your apps keep running even when you're moving, reducing hassle and delays.
Retain
For various reasons, it could be preferable to keep some apps on your own servers, for example, apps that need extensive refactoring. Other reasons for retain:
Security and compliance – To comply with data residency rules, you might want to keep apps. Some businesses think that by handing over some control to the cloud service provider, brands are also exposing their customers' data more.
High risk – You may retain an application as it needs a comprehensive assessment and a long transition period because of security issues. Sometimes this means you'll need much more time to fully appreciate the advantages of the cloud
Dependencies – If you must migrate one or more other apps first, you could choose to keep a particular application.
Retire
"Retire" is a migration strategy for apps you no longer want to use. In short, we can describe it as shutting down all servers belonging to the application. The retirement strategy can be used when:
Retaining the software or migrating it to the cloud has no economic benefit.
You wish to get rid of the expense of hosting and maintaining the application.
Older versions of operating systems may no longer be supported due to new versions being released over time. Applications running in such a version are vulnerable to security vulnerabilities. Therefore, deprecating these apps is the best option.
Which Tools are Used for Cloud Migration?
Effective cloud migration methods necessitate the correct blend of person, processes, and technology/tools. In this part, I want to mention the cloud migration tools that help businesses transition from on-premise to cloud-based infrastructure.
AWS Migration and Transfer Services:
AWS has many services and tools for managing and monitoring cloud migration.
AWS Migration Hub
To assess, plan and track migrations to AWS, server, and application inventory data may be gathered in one place via the AWS Migration Hub. In addition, the speed of application modernization after migration can also be aided by Migration Hub.
AWS Application Migration Service
AWS Application Migration Service seamlessly migrates your source servers to run natively on AWS, cutting down on time-consuming, error-prone manual processes. Providing choices for post-launch optimization also makes program modernization simpler.
AWS Database Migration Service (AWS DMS)
You may migrate databases to AWS fast and securely with the aid of AWS DMS. Application downtime is minimized because it stays fully functional throughout the migration. In addition, your data can be moved between the most popular commercial and open-source databases with the help of the AWS Database Migration Service.
AWS Snow Family
Large volumes of data can be moved into and out of the cloud using the AWS Snow Family of physical devices without the use of networks. This makes it easier for you to use your data with the vast array of AWS services for analytics, file systems, and archiving.
Google Cloud Migration Tools:
With the aid of Google Cloud's adaptable solutions and services, you can move your data and apps to the cloud while updating and developing at your own pace. The most used tools are:
Google Cloud Migration Center
A unified migration platform called Google Cloud Migration Center makes it easier for you to move quickly from your present on-premises system to Google Cloud.
Google Database Migration Service
Makes it easier for you to migrate your data to Google Cloud. Google Database Migration Service helps you rehost your MySQL, PostgreSQL, and SQL Server workloads into Cloud SQL and AlloyDB for PostgreSQL.
Azure Cloud Migration Tools
Microsoft Azure's main cloud migration tools are:
Azure Migration and Modernization Center
Azure Migrate
What are Cloud Migration Risks and Benefits?
Cloud Migration can provide various opportunities and advantages in terms of economic and business skills, but it also contains various risks. First, let's consider the benefits in general.
Cloud Migration Benefits
These benefits fall under the categories of cost, flexibility, and service quality. Perhaps the most important one is the cost advantage. Companies can receive cloud computing services with no capital investment, which is very important for SMEs and newly established businesses with limited financial resources.
Cloud computing has the potential to give businesses a lot of flexibility. The service provider may immediately scale up the capacity to the consumer needs as their needs grow, and vice versa. With cloud computing, numerous user companies can receive top-notch IT support. In addition, cloud service providers offer excellent backup, security, and uninterrupted service to a large number of enterprises.
Cloud Migration Risks
We can say security is the main risk in cloud migration. However, privacy and legal issues come after security.
For companies, any loss of data or any kind of data breach is unacceptable. Eliminating or minimizing security risks is of vital importance for institutions. Only authorized users should have access to IT resources to maintain security. We will discuss the security topic in more detail under the other heading.
In cloud computing, customers are unconcerned with technical details like the location and method of data storage. However, there may be some legal issues raised by that functionality. In addition, existing legal differences, especially data security and privacy issues, can create legal problems if data is held in another country.
What are the 5 Phases of a Cloud Migration?
From 3 to 5 steps, there are many approaches to cloud migration in different documentation. In this part of the article, I will explain the 5-steps model* of AWS. Those procedures should only be used as a general framework and should not be taken as rigid rules. Every organization's decision-making process will be guided along the way by its own restrictions, distinct goals, and budgets.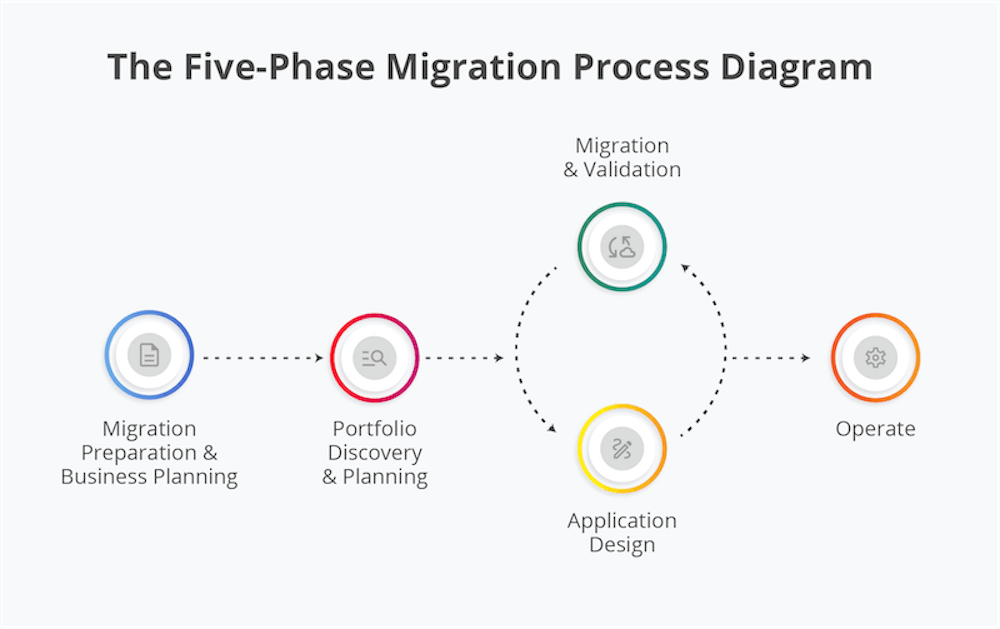 Phase 1: Migration Preparation and Business Planning
Everything starts with a good plan, and every good plan should have specific objectives. Identifying the specific goals the company intends to achieve is the first step of this phase. These goals can serve as the foundation for developing a cloud migration plan.
Phase 2: Portfolio Discovery and Planning
To identify the current architecture and choose the best apps and data to move to the cloud, this step involves a review of the current infrastructure, application, and data environment. How you move to the cloud environment depends on the complexity of your current systems and the intensity of their workloads.
Phase 3 / Phase 4: Designing, Migrating, and Validating Applications
Since these two steps are in the form of a successive cycle, they are considered together. We have already discussed 7Rs Cloud Migration Strategy. This is the stage where we choose the strategy from 7Rs.
Two aspects must be taken into account by a business while developing its cloud migration strategy.
The deployment model:

public cloud
private cloud
hybrid cloud
multi-cloud

The service category:

IaaS (Infrastructure as a Service)
PaaS (Platform as a Service)
SaaS (Software as a Service)
After choosing the right strategy according to your goals in your cloud migration plan, your infrastructure, database, and application migration officially starts. Each component should be validated as the new infrastructure and applications start to serve in the cloud environment.
Phase 5: Modern Operating Model
As apps are moved, you optimize your new base, turn off legacy technology, and progress continuously toward a contemporary operating mode.
You must continuously check your new base for function optimization as apps shift, gradually shut off legacy applications or servers, and continually improve toward a contemporary operational style.
What are the Cloud Migration Security Challenges?
When it comes to cloud security challenges, the main problem is that customers see security issues only as the responsibility of cloud service providers (CSP). The same issue exists for cloud migration security. In fact, cloud security is a shared responsibility of both the cloud service providers (CSP) and the customers.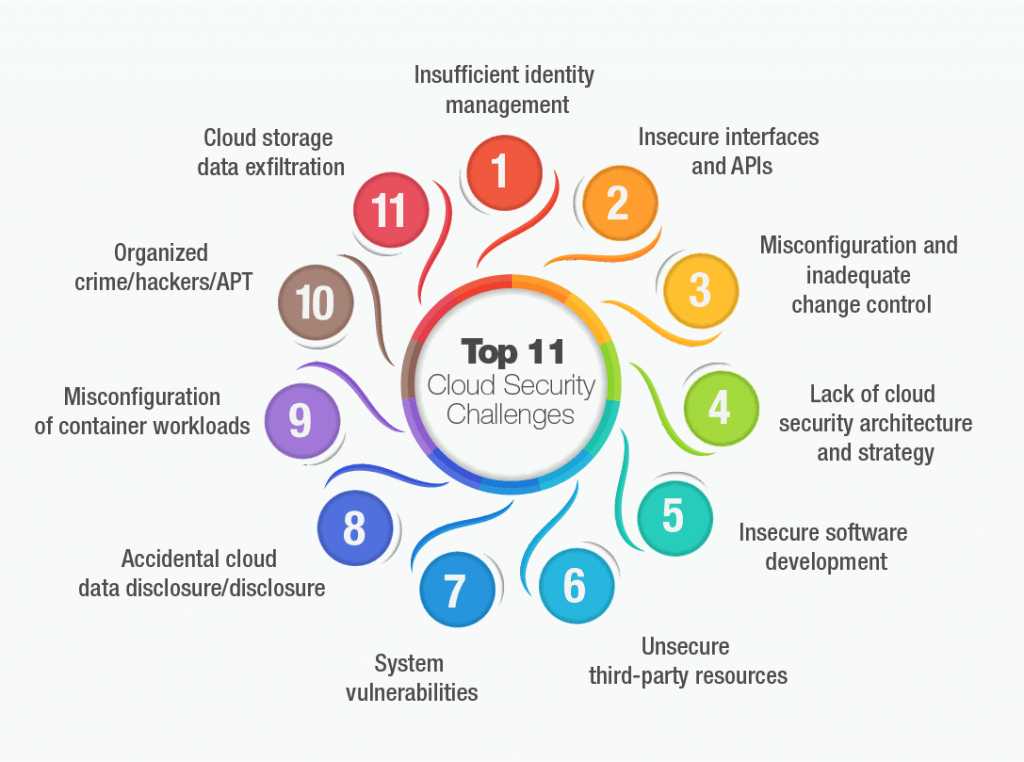 In addition to the current cloud security challenges, other difficulties may be overcome throughout the cloud migration process. Some of those challenges are:
Data Exposure, Loss, and External Attacks
Misconfiguration
Managing Hybrid Networking Configurations
DevOps Transition with Cloud Migration
Accidental Errors
The cloud migration security risks must be taken into account during the planning phase. A comprehensive roadmap ensures a seamless transition to the cloud. A cross-functional team should be established that can carry out the created roadmap.
A DevOps transformation may occur as a result of cloud migration. If not, you can end up with a static environment that resembles the current on-premises system. But in that situation, the company might not get the anticipated benefits of cloud migration. In your cross-functional team, there should be DevOps staff, or you can get consulting. DevOps consultants can choose effective tooling and assist in creating a safe and effective cloud operational culture.
How to Get Effective Cloud Migration Services?
You need to be aware of potential challenges before you take any significant action. Then, you can feel more confident recognizing and reducing risks, choosing the best plan for your needs, and learning the necessary resources and techniques ahead.
A qualified partner may help you avoid mistakes, such as selecting the incorrect technology throughout the transition process. Many businesses get technology partners to make a move easier. Cloud consultancy helps businesses decide on innovative choices when implementing a cloud migration or selecting cloud-native solutions.
With the help of Nioyatech's cloud solution services, you may be guided through every step of your cloud journey, from adopting a strategy through implementation and maintenance.
Sources:
https://d1.awsstatic.com/Migration/migrating-to-aws-ebook.pdf