There is a significant increase in the application of cloud management and monitoring tools as more and more industries realize the potential benefits of moving their installations to the cloud.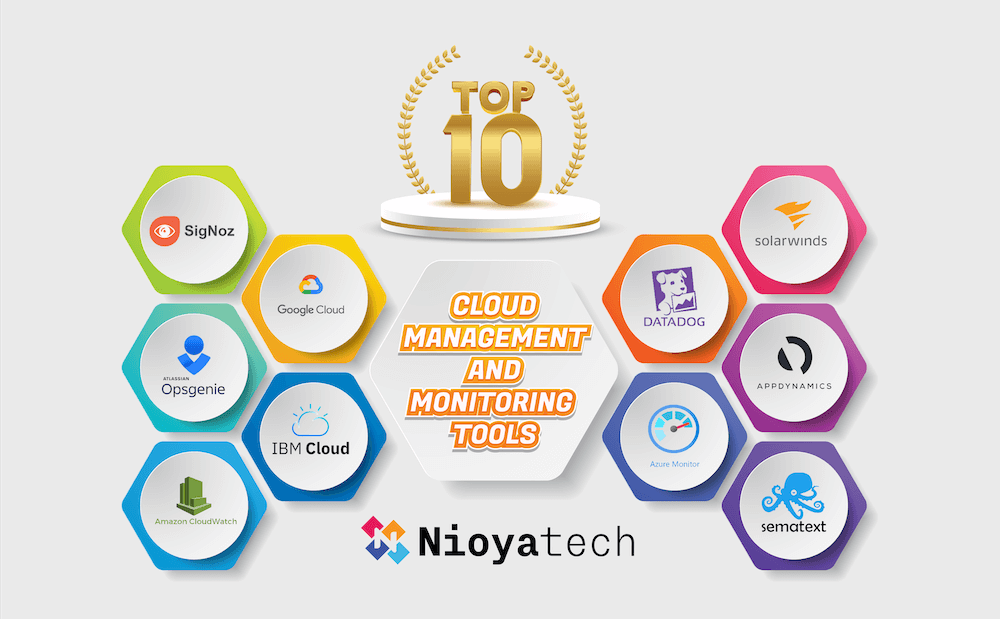 Through the use of cloud monitoring and management tools, companies may easily provide cloud services to end users and execute cloud activities. In this article I will mention some of the best cloud monitoring and management tools that assist you in managing, monitoring, and evaluating the effectiveness of your cloud services. But before diving deep into those tools let's first check what is Cloud Infrastructure Management.
Cloud Infrastructure Management
Cloud infrastructure management includes all the tools needed for the user to create all cloud computing services in the most efficient way. The most important tool is a user-friendly control panel for the user to manage their infrastructure in the cloud environment. The users should easily reach used services, usage and billing information.
For cloud computing to fulfill its important promise as a whole, cloud infrastructure management is essential. The cloud, when managed effectively and optimized, gives businesses more flexibility and scalability for their applications and infrastructure while minimizing expenses. Cloud management and monitoring tools have emerged to provide this in the most efficient way.
What is a Cloud Management and Monitoring Tool?
Cloud management and monitoring tools allow users to track the usage status, performance, and billing information of cloud applications or services in one place. These tools collect data in real time to convey information about all cloud-based services. Cloud management and monitoring tools can monitor application performance, network availability, and resource allocation, among other cloud-related factors. They are often used by IT departments to keep services running optimally and securely and also to ensure that money is not spent unnecessarily.
Cloud Management and Monitoring Tool List
1. AWS Cloudwatch
Amazon CloudWatch provides a monitoring and observability solution. To monitor your apps, respond to changes in system performance, and maximize resource usage, CloudWatch gives you data and useful insights. In the form of logs, metrics, and events, CloudWatch gathers monitoring and operational data.
Your AWS resources, apps, and services that are operating on AWS and on-premises are completely visible to you, and you receive a single picture of operational health. To keep your apps operating properly, you can use CloudWatch to identify unusual activity in your environments, trigger alerts, compare logs and analytics, take automatic actions, troubleshoot problems, and get insights.
Key features of CloudWatch :
Easy log and metric collection
You may gather logs and metrics from your application, infrastructure, and services using CloudWatch.
Lambda monitoring, anomaly detection, and container monitoring
Automatic dashboards for container and lambda insights are offered by CloudWatch. You can configure alarms to automatically alter thresholds depending on measurement trends using anomaly detection.
2. Google Cloud Operations Stack
Organizations can monitor, troubleshoot, and manage cloud deployments thanks to Google Cloud operations . It provides more sophisticated observability features, such as a profiler and a debugger.
Key features of Google Cloud Automation Stack
Management and analysis of logs in real-time
A fully managed service, Cloud Logging can ingest bespoke log data from GKE environments, VMs, and other services both inside and outside of Google Cloud, as well as application and platform log data. It also performs at scale. With Log Analytics, which incorporates the strength of BigQuery into Cloud Logging, you can get superior performance, troubleshooting, security, and business insights.
Cloud monitoring offers insight into the functionality, availability, and general health of applications that are powered by the cloud. Gather data from Google Cloud services, hosted uptime probes, application instrumentation, and a range of standard application components to include metrics, events, and metadata. Create alerts so you are informed when measurements fall outside of expected ranges by visualizing this data on charts and dashboards.
Maintain and enhance the efficiency of your application
Application Performance Management (APM) helps you lower latency and cost so you can operate more effective applications by combining the monitoring and troubleshooting capabilities of Cloud Logging and Cloud Monitoring with Cloud Trace and Cloud Profiler.
3. Azure Monitor
You can increase the availability and efficiency of your applications and services with the aid of Azure Monitor . The telemetry from your cloud and on-premises systems can be collected, analyzed, and used to take action thanks to this comprehensive solution. With the aid of this data, you may better comprehend how your apps are operating and proactively spot problems before they impact the resources they rely on.
Key Features of Azure Monitor
Because gathering imprecise data is useless, Azure Monitor provides a range of data visualization choices.
Respond to critical situations
An efficient monitoring platform must be able to rapidly address important circumstances discovered in the data it collects in addition to enabling you to interactively analyze monitoring data. Sending an SMS or email to an administrator in charge of looking into a problem could be the reaction.
4. IBM Cloud Orchestrator
IBM Cloud Orchestrator enables service management as well as provisioning, configuration, integration, and addition. The supply of the cloud services can be automated with the aid of policy-based solutions.
The cloud management platform improves and accelerates service delivery while cutting down on provisioning times. The platform provides a self-service interface for quickly managing, monitoring, and safeguarding cloud infrastructures. It guarantees the automation of laborious, error-prone manual tasks. The configurable and advanced functionality features help in the easy management of cloud services.
5. SolarWinds
You can quickly identify, diagnose, and fix network performance issues and outages using SolarWinds Network Performance Monitor, a robust and reasonably priced network monitoring tool. There are several cloud management and monitoring tools in SolarWinds for different categories:
Network and Systems Management

Database Management

Observability

IT Security

IT Service Management

Application Management
The platform can monitor hybrid and multi-cloud settings. A interactive virtualization platform provided by Solarwinds makes it easier to gain insight from the countless metrics gathered from an IT environment. The platform has diagnostic and repair capabilities that allow quick reaction to problems when they are found.
6. Data Dog
DataDog offers a variety of tools for tracking the performance of applications. Installing DataDog agents will allow you to begin transmitting performance data (logs, metrics, and traces) to DataDog Cloud for archival and analysis after creating a DataDog account. It is perfect for use in scenarios with hybrid clouds.
DataDog's simplified dashboard aids in the visuallization of precise, real-time data and users can easily monitor all of their desired metrics. Depending on the pricing plan you select, DataDog offers a variety of features including log management, infrastructure monitoring, APM, and security monitoring.
7. App Dynamics
AppDynamics offers network management solutions for analyzing application performance and quickening shifts in operations. The solution can be used to enhance cloud application visibility and control.
Users can discover the real state of all applications at both the high-level operations and code levels. Any software or infrastructure environment can be easily adapted by App Dynamics.
8. SemaText
Sematext Cloud is a comprehensive cloud management and monitoring tool that allows you to see inside of your IT infrastructure with an easy simple to set up. It can be described as a platform for troubleshooting that offers a single view of the apps, log events, and metrics generated by the cloud environment. Discovery and performance troubleshooting tasks are made easier by smart alert messages.
9. OpsGenie
Opsgenie is a cutting-edge incident management tool that ensures critical incidents are never overlooked and appropriate action is taken as soon as possible. Your monitoring systems and customized applications send alerts to Opsgenie, which categorizes each by priority and timing.
Opsgenie provides direct connections with AWS Services, ensuring that DevOps teams and IT engineers are able to identify and address issues as soon as feasible. Opsgenie may combine alerts and notifications, alerting the appropriate parties at the appropriate times and providing them with the pertinent information they require.
10. SigNoz
You may track your applications' performance and identify issues with the aid of the open-source SigNoz tool. Distributed tracing is how SigNoz makes your software stack visible.
You can perform the following using SigNoz:
Keep track of application data including latency, requests per second, and error rates.

Keep track of infrastructure data like CPU or memory usage.

following up on user requests across services

Activate metrics alerts

Investigate the precise traces that are causing the issue to find its source.

View thorough flame graphs of specific request traces.